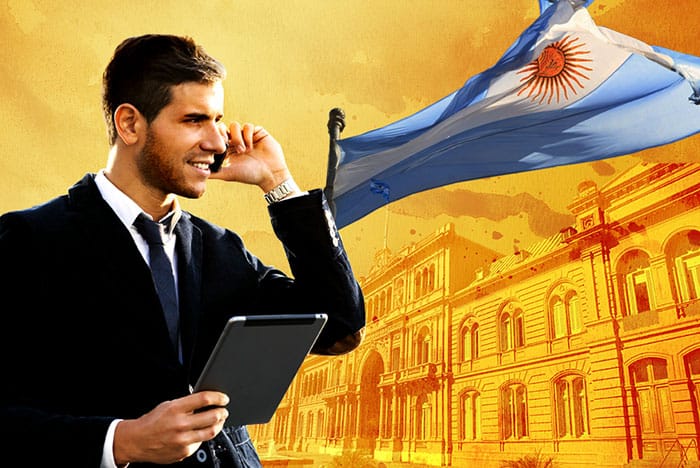 As a business owner, you are only too aware of how important communication is for expanding your customer base. Because of the widespread telecommunications services in Argentina, you have a great opportunity to promote and grow your business there. The easiest and most affordable way to do this is with local, toll-free Argentina phone numbers. With virtual Argentina phone numbers, you can have a presence in the country without having to set up a physical base there. Because Global Call Forwarding can provide you with local Argentina phone numbers, your Argentina customers will never know your office is not in their country.
Argentina is a South American nation. It is bordered by Chile, Paraguay, Bolivia, Brazil, and Uruguay. It is the 8th largest country in the world and is Latin-America's second largest country. Buenos Aires is the nation's capital. Argentina also makes a claim to the Falkland Islands, South Georgia, the South Sandwich Islands, and part of Antarctica.
Geographically, Argentina is divided into five major regions. These are comprised of the rainforest, which is located in the northeast, the central Pampas grasslands, the swampy Chaco plain, the Patagonian plateau, and the Andes Mountains. Argentina enjoys a diverse climate with tropical and subtropical regions.
Argentina's government is a democratic federal system with a presidential representative. The president of the nation is both the head of government and head of state. The current president. Mauricio Macri administers the executive branch of the government. The Judiciary is comprised of federal judges and a Supreme Court. The Legislative branch is comprised of the Senate and the Chamber of Deputies.
Argentina's culture is multifaceted and comprised of a varied blend of ethnic groups. Modern-day culture takes its influences from Spanish, Italian and other European residents. There also exists a slight African and American Indian influence. This is particularly noticeable in the arts and music. Buenos Aires is the country's cultural capital. Like many of the nation's urban centers, it is characterized by European architecture, cinemas, museums, restaurants, and bars that offer a variety of entertainment.
The Argentine Economy
Argentina has the second-largest economy in South America and the third-largest in Latin America. The nation is rich in natural resources and also benefits from an agricultural sector and diverse industry. Economic performance in Argentina has had its ups and downs over the years. During the late 20th century, there have been several periods of high economic growth, alternated with periods of a severe recession. The recessions led to uneven distribution of income and an increase in poverty.
Argentina's industrial base is located in Córdoba. The city is the heart of the metalworking industry, particularly for auto production. The nation's other main industries include textiles, consumer durables, food processing, printing, chemicals, petrochemicals, and steel.
Agriculture in Argentina focuses on the production of cereal, sugar, oil grains, tea, fruit, cotton, and wine. Wheat and rice are the leading crops. Argentina is one of the world's largest producers and exporters of food. Animal husbandry and agriculture provide the nation with 70-95 percent of its total export earnings.
The service sector is the number one contributor to Argentina's GDP. This sector is diversified and includes a balanced combination of financial, corporate, real estate, insurance, communication services, transport, and tourism. Thanks to a rapidly growing telecommunications sector, the economy benefits from widespread access to telecommunications. Around 77 percent of the Argentine population has access to cell phones, and more than 75 percent of the population has access to broadband internet services. The nation also benefits from 9.5 million telephone lines.
Doing Business in Argentina
Argentina phone numbers have several benefits for your business:
Convenient: You can take calls anywhere. Global Call Forwarding service can redirect your calls to the number of your choice. It could be your office, your call center or your mobile phone. You can even have calls redirected to multiple numbers at the same time, so you are guaranteed never to miss a call.
Efficient: Virtual Argentina phone numbers allow you and your employees to work remotely, giving you maximum geographical flexibility. Your clients can reach your customer service team, even when they are out of the office.
Cost effective: Argentina phone numbers save money for your Argentine customers because they will not have to pay international call rates. This means they are more likely to call your company. They also have the added reassurance of a local number with which they are familiar.
Expansive: International virtual phone numbers enable you to increase your foreign customer base without having to set up offices around the world, saving you time and money.
Contact Global Call Forwarding today and talk to one of our representatives about setting up Argentina phone numbers and other virtual international numbers.