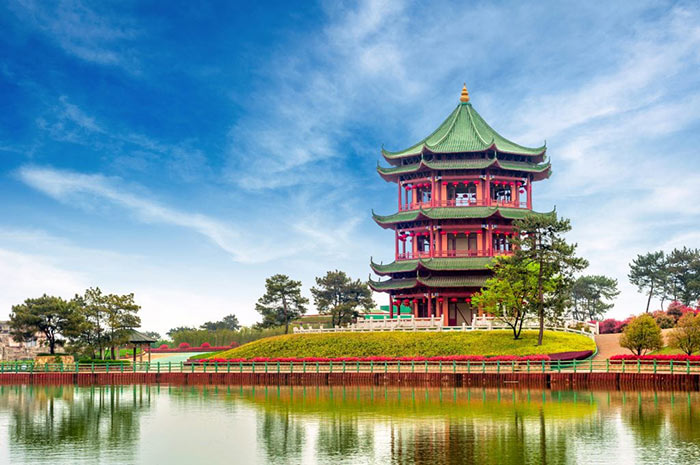 One of the greatest traditional festivals in China, and probably the most important to the Chinese people is the celebration of Chinese New Year, also known as the Spring Festival. It begins on the 23rd day of the 12th lunar month of the Chinese calendar, and lasts for around three weeks.
Many people in China prepare for the Spring Festival by cleaning their homes. Traditionally, red flags or posters inscribed with poetic verses are hung on the doors of each home, while Chinese red lanterns are hung inside and outside, as Chinese New Year Pictures are posted on interior and exterior walls.
On the eve of the Spring Festival, the brilliant sights and sounds of fireworks popping echoes throughout the nation. This practice symbolizes the Chinese faith that bad luck will be cast out and the New Year will bring good fortune. At this time of year, many Chinese people will wear new clothes and children often receive "luck money." The vibrant spring festival activities include the famous dragon, lion dances and traditional folk singing.
Chinese New Year is a national holiday for the Chinese and all government offices, and educational facilities are closed from the Spring Eve Festival until the end of the New Year period. Family rituals and traditions are paramount during the Chinese New Year Festival. The Chinese make the most of this time of year to spend quality time with relatives and close friends.
When you Miss your Family and Friends in China
When you're a Chinese expat, living abroad can be very exciting with all the fun of experiencing a new culture. Yet, sometimes it can feel very lonely, especially when you're missing your friends and family. If you have loved ones in China and you can't be with them to celebrate the Chinese New Year festivities, the best way to share it with them is by making a phone call. The problem is that international calling can be very expensive for them and for you, especially if you live in a Western country. Perhaps until now, you have had to rely on emails, the occasional Skype call or even letters.
You may not realize it, but inexpensive international calling is no longer a problem. With companies like Global Call Forwarding, you can keep in touch with your loved ones in China as often as you would like with virtual Chinese phone numbers.
Keeping in Touch With Virtual Chinese Phone Numbers
Virtual Chinese phone numbers, sometimes known as access or re-routing numbers, are phone numbers that are not tied to a specific telephone line. Rather, virtual Chinese phone numbers use the internet or cloud to redirect calls to any number the client may choose.
Once you have signed up for your virtual Chinese phone numbers, you will have a local toll-free Chinese number which your family can use to call you at no cost to them. Once they make a call, Global Call Forwarding's service will reroute their call to your home phone, cell phone or business line, whichever is most convenient for you. The process is simple and seamless.
You can be signed up for one or more affordable virtual Chinese phone numbers within minutes. If you want to test the service before you commit, Global Call Forwarding will hook you up with a free trial. Before long you will hear the familiar voices of your family members.
As well as doing away with expensive calling rates, your friends and family will also have the added convenience of avoiding confusing long-distance country calling codes to reach home. You will just have to direct your virtual Chinese phone numbers to your preferred line, and they will be able to reach you with very little effort. The service is completely customizable. You can incorporate simultaneous ringing so that if you are busy or your line is engaged, another family member's phone will ring at the same time. You also have the option to log on to your control panel and change the location of where you want to receive your call. That way you never miss those important calls.
For instance, if you are waiting for your important weekly call on your home landline from your mother, and you have to run out and do some errands, you can have her call redirected to your cell phone, so you can be sure that you won't miss her call. You can also still be available for family calls even if you are conducting business and traveling overseas.
Don't keep your family and friends waiting for that call any longer. Call Global Call Forwarding today and ask about virtual Chinese phone numbers. We will help you design a custom calling package to suit all of your communication needs. Thanks to virtual phone numbers we can make sure expats stay in touch with their loved one without hurting their wallets.