I published an article a few weeks back, ranking the top 10 budget airlines in Asia and how to reach them. I noticed a trend amongst best in Asia: 60% of these airlines offer international phone numbers. The trend continues even further to major global airlines like Qatar Airways and American Airlines!
In this post, we take a look at how airlines use call forwarding to increase sales.
It can be expensive and complicated to make international calls. Your customers don't want to dial a long-distance phone number just to book their flight. Instead, they are almost 3x more likely to make free calls.
Due to the industry's nature, the customer base of any travel company is typically spread across many countries. The AirAsia Group, for example, services affiliates in Malaysia, Indonesia, Thai, India, Japan and the Philippines. (Source: AirAsia Corporate Profile)
Smart airlines provide local phone numbers in their target markets and forward inbound calls internationally. For example, Air Asia offers a local contact number in 15+ countries. This enables their business to maximize its potential in Asia – Pacific markets.
Click here to see how AirAsia makes themselves more accessible to customers.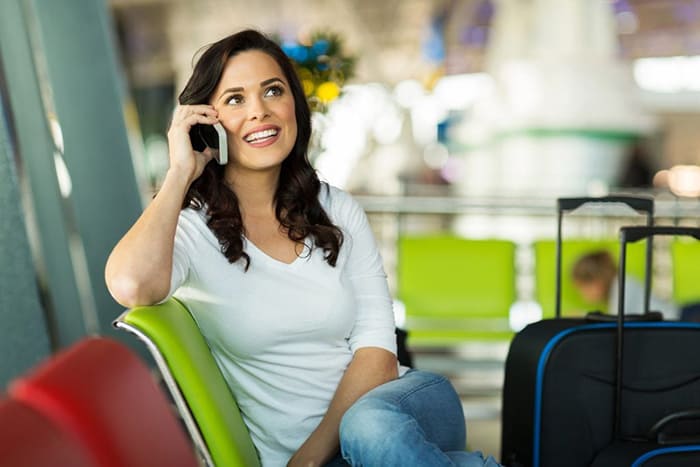 3 Ways Airlines Use Call Forwarding as a Marketing and Sales Tool:
Call forwarding is a cost-effective marketing tool used by top airlines across the globe to increase sales. Airlines that list local or free phone numbers as a call to action in advertisements are guaranteed to receive more calls. The calls can then be forwarded internationally to any destination in the world.
Here are 3 ways airlines use local numbers as a marketing tool:
       Mobile: b

ooking hotline
A local phone number can be used as a reservations hotline to attract more traffic from any target country. Many airlines offer booking hotlines that direct customer inquiries to call centres or sales offices. 
      

Print advertisement: billboards, signs, kiosks
Print advertisements are still very efficient at reaching mobile consumers in 2017. Especially in Asia, airlines advertise their free phone number on public transportation, billboards, kiosks and signs. As you might see in the image, a free phone number is an effective call-to-action. 
      

B2B sales and customer support
Travel agencies and corporate customers shouldn't have to pay to call you. A local direct line can have a tremendous impact on B2B sales and customer support. Business contacts prefer a phone number that is easy to call.
Local or toll free contact numbers can be advertised on the website to make an airline more accessible and provide better customer support.
Set Up a Call Forwarding Service for Your Airline in 3 Steps:
Global Call Forwarding offers a 15-day free trial to corporate users, so they can test as many as three local or toll-free phone numbers risk-free. Here are 3 steps for airlines that want to set up a call forwarding service:
      

Identify target markets and view rates
Which countries do most of your passengers come from? Airlines should offer local contact numbers in at least their top 3-5 markets. We can provide international toll free numbers from many of the 195 countries worldwide.
       Choose

 the best call forwarding service provider.
The best providers offer free trials and a money-back guarantee. A call forwarding service provider will package the local/toll free number and forwarding service as one monthly fee.
      

Forward incoming calls
Forward incoming calls to any destination in the world – sales offices, call centers, cell phones or business headquarters. The potential is virtually unlimited.