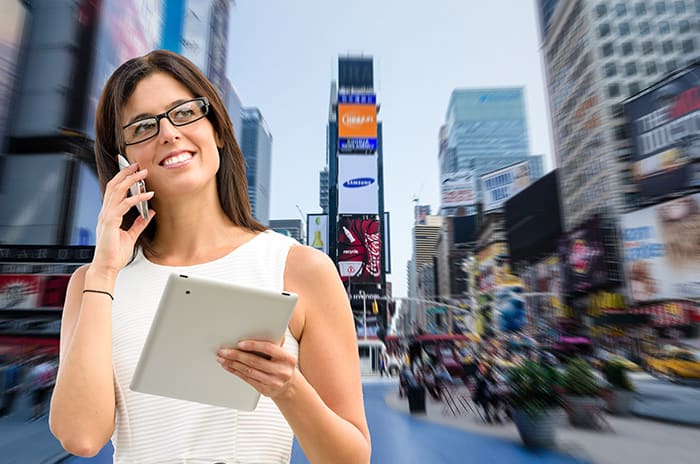 New York City (NYC) is the most densely populated city in the United States. The city is located at the southern tip of the state of New York and on the East Coast of the country. It consists of five boroughs: Manhattan, Brooklyn, Queens, Bronx, and Staten Island. NYC may not be the capital of the state of New York but it is the financial, cultural, and media capital of the world. Nicknamed "the city that never sleeps," NYC is constantly buzzing. Hundreds of people migrate to the city from other U.S. states and across the world. It is a leader in tourism, art, sports, fashion, education, politics, entertainment, technology, and research. Get New York City phone numbers to enter your business in this thriving market.
Why Your Business Should Have New York City Phone Numbers
Entering a new market or starting a business requires connections. You need a way to introduce your product and promote it so that potential customers know it exists. One way to create and build on connections is by purchasing a US phone number. Locals recognize phone numbers with their area codes and are more likely to do business with such companies than with those they don't recognize. And so, if you plan to expand your business to the city of New York, getting an NYC phone number is the first step.
Benefits of Local NYC Phone Numbers
With a local New York phone number, you can tap the NYC market without necessarily relocating. A virtual phone number enables you to contact customers near and far at more reasonable rates than traditional phone lines. And since you have a local number, you can also advertise your brand and product in local directories and communities, bringing target audiences closer to your business. Whether your enterprise is located in another state or internationally, it is a smart business move to have New York City phone numbers. You will gain access to millions of people without having to find a store location in the high-rent areas of NYC.
New York City Area Codes
The city of New York has multiple area codes associated with it. Over the years, the area codes have changed and multiplied due to population growth and overuse of numbers. It can be hard to keep track of the history of these numbers. Here's a brief overview of New York City phone numbers:
In 1947, the 212 area code ‒ one of the original 86 codes ‒ was assigned to NYC and covered all five boroughs. Eventually, population explosions led to the exhaustion of numbers with the 212 code, creating a need for new numbers. Brooklyn, Queens, and Staten Island, therefore, received the 718 area code and 212 was reduced to Manhattan and the Bronx.
Further, in 1992, 718 grew and expanded to include the Marble Hill neighborhood of Manhattan as well as the Bronx. The rest of Manhattan, however, remained under the 212 area code. All the switching around of area codes, along with a decrease in available numbers, led to the birth of the 917 area code in 1992. Originally meant for the Bronx and mobile use, this area code overlaid the entire city of NYC.
But the journey of a New York phone number doesn't end here. 1999 witnessed a scarcity of 917 mobile numbers which led to the creation of the 646 area code to combat this. This code overlaid 212 in Manhattan. This led to 646 area code numbers used for personal and business needs.
More recently, the 332 area code was assigned to overlay Manhattan's 212 and 646 codes in 2015. This code came as a solution to overlay 212, 646, and 917 numbers used heavily by businesses and individuals. Area code 332 became active in 2017 and has since been serving NYC residents.
 NYC: One of the World's Megacities
The city of New York is considered a megacity, a term given to large metropolitan areas with a population of more than 10 million people. Additionally, it serves as an international hub thanks to its airport, JFK International Airport and the Port of New York and New Jersey. In fact, NYC has one of the most diverse populations in the world. Because of this diversity, it functions as a "melting pot" with over 800 spoken languages. In addition to its multicultural citizens, New York is also home to the highest number of billionaires. Because of this and other factors, the metropolitan area brings in over a trillion dollars of gross metropolitan product.
NYC is famous for its beautiful Manhattan skyline. The city boasts some of the most unique architecture in the world. This includes the new, One World Trade Center and the Ground Zero skyscraper. It is also home to more than 6,000 high-rise buildings. Many of which are offices, apartment buildings, and rooms used for commercial purposes.
The reason so many are attracted to this city is the abundance of opportunities and options available. You will find almost every industry and any kind of business here. Start-ups and solopreneurs can use resources offered by the city to prosper. And tourists and visitors can charm themselves with a variety of cuisine and entertainment options. The city has more than 2,000 arts and cultural organizations and countless street events, fairs, concerts, and festivals.
Global Call Forwarding offers several different New York City phone numbers and area codes. Have a look at the different plans we offer to find one suitable for your business.