Phones in the business realm aren't going away anytime soon; instead, more and more businesses are populating as a result. But, with all of these providers, choosing among them to fit all of your needs is difficult. Additionally, competitive pricing is very important. Two of the top-rated VoIP phone service providers in the nation include Grasshopper and FreedomVoice. But, what are the differences between these two companies? And, which should you choose for your business phone service needs?
Pros of FreedomVoice as a Business Phone Provider
The most notable and highly reviewed aspects of FreedomVoice's business VoIP service is that it's easy to use. Since it doesn't require any additional software, you can purchase the service, install it, and have it running in just a few minutes. Plus, once it is set up, most reviews note that the software application is quite easy to use and operate. Furthermore, you can pick and choose from any additional features you may need. And, set these up before you make your first call, right from your smartphone device. Some of these features include customizable greetings, simultaneous ring, and call transfer.
Cons of FreedomVoice as a Business Phone Provider
While FreedomVoice boasts ease of use, there are some cons to choosing this phone provider for a VoIP phone number. For starters, they don't offer as many features as other competitors, including the virtual phone numbers from Global Call Forwarding. For example, you can't send team messages or conduct conference calling from the VoIP numbers through FreedomVoice. Secondly, with this company, there is no ability to merge integrate VoIP lines with business software systems. These are systems that are used every day like your business CRM (Salesforce, Asana, etc.). Finally, with rates starting at $9.95 for one cloud phone number, there are certainly more inexpensive options available.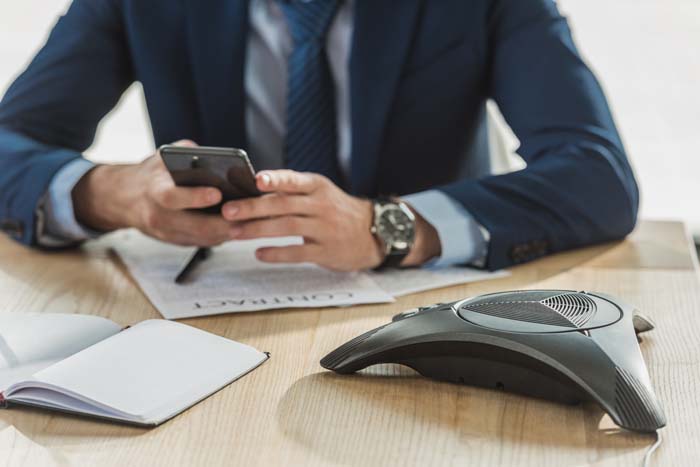 Pros of Grasshopper as a Business Phone Provider
Just like FreedomVoice, Grasshopper is a virtual number provider. Benefits of choosing this company include ease of set up and the ability to add features to business VoIP numbers. This organization also provides the option to include other, additional features. Some of which can make doing business much easier. This increases overall customer satisfaction when it comes to doing business over the phone.
Cons of Grasshopper as a Business Phone Provider
Unlike FreedomVoice, Grasshopper requires you to have an already established business phone system. A multi-line system or a physical VoIP unit are both examples. This means that choosing FreedomVoice for VoIP management could mean having to fork over money to pay for phone units. Would you rather have the ability to make calls from any device you want, including mobile devices? And, not have to purchase brand new equipment just to make these types of calls? If so, Grasshopper is not for you. Finally, with a starting price of $26 a month, even FreedomVoice is cheaper than this option. So, if money is an important issue for your business endeavors, it isn't the best choice.
A Better Choice: Global Call Forwarding
Still not sure if either FreedomVoice or Grasshopper is right for your business? That's because there is a better option available! Global Call Forwarding is more competitively priced than both of these competitors. And, it's just as simple to set up and use and doesn't require the purchase of additional equipment to start. Finally, it is competitively priced (with the lowest priced plan starting at $7.95 a month).
Choosing Global Call Forwarding for Cloud Telephony Needs
There is a more affordable way to conduct business without the headache. To set up cloud telephony services with Global Call Forwarding, contact us today.