Sales teams and telemarketers are finding it increasingly difficult to connect with potential clients and prospects. This is because there is a growing intolerance for business calls interrupting one's already hectic workday. However, inside sales and customer care teams can be smart about this and find better ways to connect with customers and prospects. To do this, you must identify the best time to make a business phone call and then train your agents and employees to follow professional and considerate business telephone etiquette.
What is the Best Time to Make a Sales Call?
Picking the best time to make a sales phone call depends on a variety of factors. These factors revolve around who your core and target demographic is and what their daily schedules are like:
Do they work 9-5 jobs?
Are they parents who will be busy taking care of their children before 9 AM and after 5 PM?
Are they students who have classes at various times of the day?
Determining your customers' schedules can help you identify the best times to call them regarding a past or present purchase. Not only should you call at the appropriate time, but you should also maintain professional business phone etiquette. By practicing professionalism and respect for your clients' time, you will increase the chances of developing good relationships and more conversions.
Best Days of the Week to Make Sales Calls
According to a recent study on the best times to cold call businesses, Wednesdays and Thursdays were identified as the best days of the week to call potential clients and customers. On Mondays, buyers and clients are easing into work mode and preparing for their upcoming week. Similarly, on Fridays, people are generally already in weekend mode and not looking for new business opportunities. Cold calls and unscheduled calls during this time are often sources of frustration and can lead to immediate rejection.
On Wednesdays and Thursdays — the middle of the week — individuals have settled into the workweek and are prepared for all kinds of business. During this time, your call will feel less like an interruption. As such, calls made on Wednesdays and Thursdays have a higher rate of translating into actual conversions.
Best Time of Day to Make a Business Phone Call
When calling customers and prospects, you have to be respectful of their time. Most telemarketers and salespeople fail to connect with their clients by calling them at the wrong time and proceeding to take up a lot of their time. So, what is the best time to make a business phone call?
The best time to make business calls is between 4 PM and 5 PM. Clients and potential buyers are getting done with their work around this time and have the mental capacity to consider your business or proposal. Avoid making calls early in the morning or when buyers are just getting settled into their workday. So, how early can you make a business call? The second best time for business calls is between 11 AM and 12 PM.
Also keep in mind, what time during the day your business will not have as much success cold calling. As a general rule of thumb, avoid making calls between 1 PM and 3 PM. This is the time most people take lunch and are least productive. Therefore, you may not get an ideal response. Furthermore, do not call clients after 6 PM, unless they give you permission to do so. You will only frustrate them during their free time and lose their business.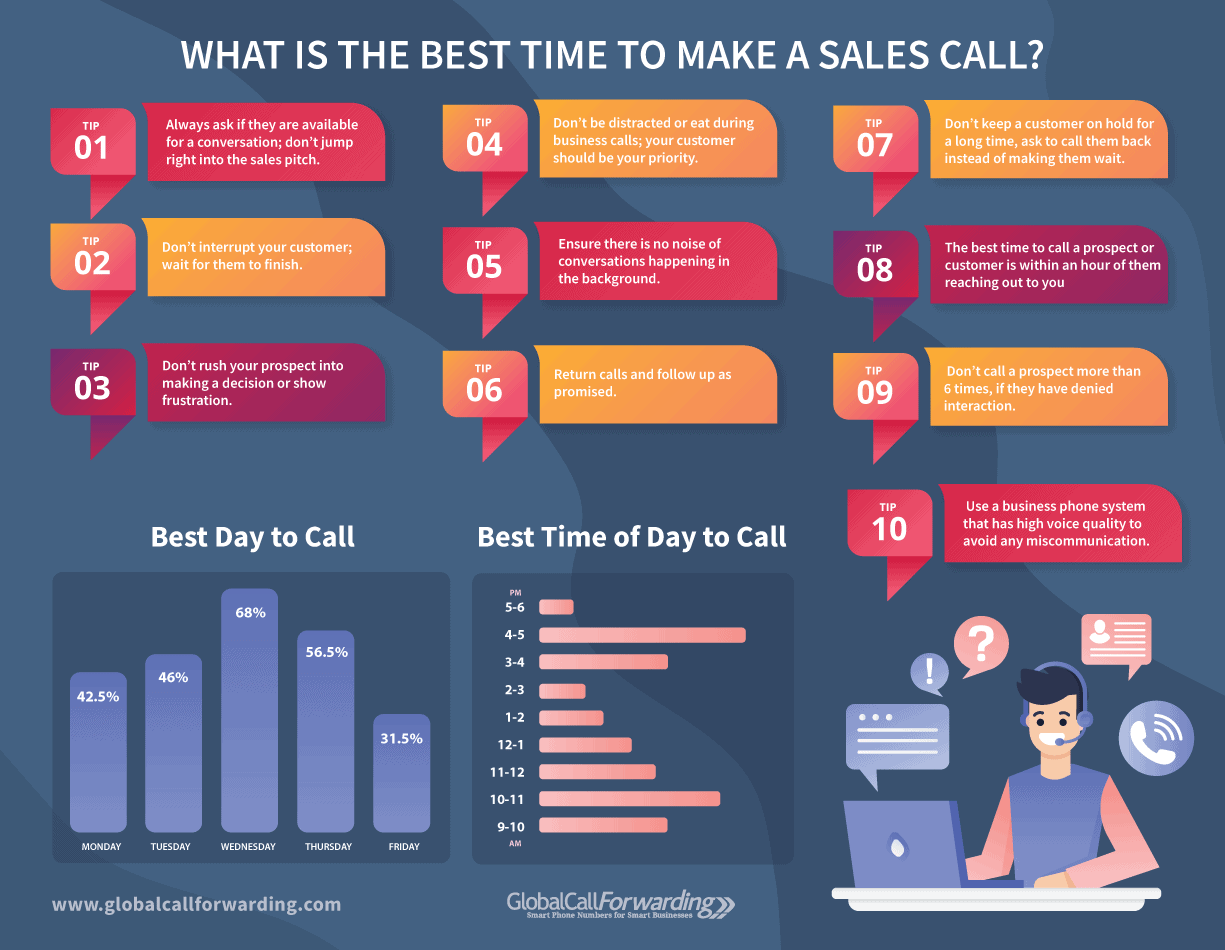 Other Sales Call Etiquette or Habits to Keep in Mind
As you can see, the recommendations for the best day and time to cold call clients take into account their schedules so you are not bothering them during peak hours. Following this thread, your team should also practice other healthy cold calling habits to maintain professionalism and improve the way your customers view the business. Here are some good business phone etiquette points and habits to follow:
Always ask if they are available for a conversation; don't jump right into the sales pitch.
Don't interrupt your customer; wait for them to finish.
Don't rush your prospect into making a decision or show frustration at the time they are taking.
Don't be distracted or eat during business calls; your customer should be your priority.
Ensure there is no noise of conversations happening in the background.
Return calls and follow up as promised.
If you need to keep a customer on hold for a long time, ask to call them back instead of making them wait.
The best time to call a prospect or customer is within an hour of them reaching out to you (via phone calls, emails, query forms, etc).
Don't call a prospect more than 6 times, if they have denied interaction.
Use a business phone system that has high voice quality to avoid any miscommunication or need for additional callbacks.
Related: International Phone Etiquette for Business in 2023
Upgrade Your Business Phone System
Global Call Forwarding's virtual phone systems offer high voice quality and global connectivity for businesses of varying sizes. You can start by purchasing a virtual phone number or porting your existing business number to our service and then building a phone system customized to your communication needs. Call us today at 1 (888) 908 6171 or chat with us online to learn more!