After the FCC announced 833 numbers, the latest prefix addition to US toll free numbers, Global Call Forwarding received numerous requests from customers. We have provided toll free numbers for many years, and it has become one of our specialties. In this article, we discuss these numbers and answer some of the inquiries we received.
You have probably heard about toll free numbers. Collect calling has been around since the 1960s, and toll free numbers are a great marketing tool because they're free to call. Rather, the toll free subscriber, or the called party, bears the cost of the call.
Free phone numbers are so effective and in such high demand, that many 1-800 number combinations are already taken. As a result, the FCC has introduced new toll free prefixes over the years, like 844, 855, 888, 877 and 866 numbers. Most recently, the FCC announced that new 833 numbers will be released on June 3rd, 2017.
A lot of our customers want to learn more about the prefix 833 – their capabilities, functionality and how much they cost. We're happy to help you with the process and ensure that you have the best options for obtaining the U.S. toll free number you desire.
What Is an 833 Number?
Simply put, 833 numbers are being auctioned because of the high demand for toll free numbers. 833 toll free numbers are just like 800 numbers, the only difference is the prefix. This just means that callers must dial 1-833 instead of 1-800.
Like any other toll free number, 833 numbers are a great marketing tool. They are accessible within the United States, Canada and the Caribbean. In fact, 833 numbers are free to call from these countries!
Vanity Numbers
Vanity numbers with the 833 prefix are customized toll free numbers with a specific string of digits that you request. Companies will typically request vanity numbers with their company name, slogan or products/services to better communicate their business. For example, a company that sells dog food might request 1-833-DOG-FOOD.
We expect that 833 vanity numbers will be in high demand once the new prefix becomes available. Global Call Forwarding can help you reserve the right 833 vanity numbers.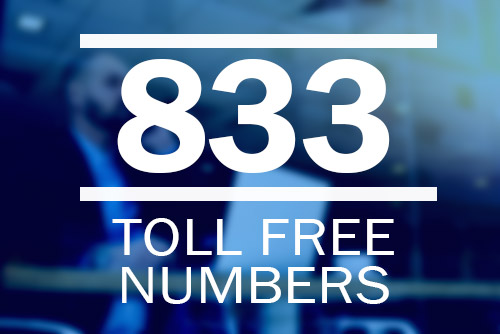 How to Get an 833 Toll Free Number?
You will be able to get an 833 toll free number starting on June 3rd, 2017. Contact a call forwarding service provider to get an 833 number. Providers are already taking requests for these numbers, and the numbers are provided on a first-come, first-serve basis. Here are some things to keep in mind:
The allocation process for 833 numbers is updated from the previous process
Each provider is only allocated a maximum of 2,000 numbers up front, no matter their size. (i.e. Sprint, Global Call Forwarding, and Verizon each get a maximum of 2,000 numbers)
You can still get an 833 number after the release date, but the availability of certain vanity numbers might be limited
How Much Does an 833 Number Cost?
There are many toll free service providers in 2020, and the cost of 833 numbers varies among providers. Most providers offer 833 at a monthly rate. The package will typically include the 833 number, the forwarding service (to route calls to your desired destination) and a set number of minutes to use throughout the month. The provider might charge a per-minute rate if you exceed your set number of minutes.
In addition to the cost of the number, it's important to look at the reputation of the service provider. Be wary of hidden charges, and providers that require you to sign a contract. The service should be offered on a month-to-month basis with no termination fees.
Bottom Line
833's are the latest toll free prefix. Call Global Call Forwarding today to reserve your number! We offer free consultations over the phone and a free trial program in 2020. We would love to help your business grow.