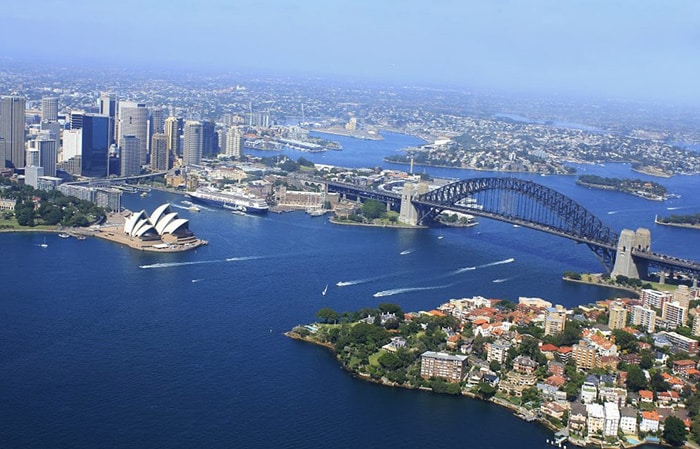 Both a country and a continent, Australia is surrounded by the Indian and Pacific oceans. The Australian continent is comprised of the Australian mainland, the island of Tasmania, and a number of smaller islands. Australia is the largest country in the region of Oceania and the world's sixth largest country. The capital is Canberra. Other major cities include Sydney, Brisbane, Perth, Melbourne, and Adelaide. Australia is a self-governing British Commonwealth country. The government is a federal parliamentary constitutional monarchy. It is divided into the executive branch, the legislative branch, and the judicial branch. The Prime Minister since 2015 has been Malcolm Turnbull. Get an Australian phone number and enter your business in its booming economy.
Buy an Australian Phone Number
To enhance your business prospects in Australia, we cannot stress the importance and the benefits of getting Australian phone numbers. They are affordable and highly convenient. Here are the steps:
Go to our Pricing page.
Select Australia as the country you need a number for.
Then, choose the type of number (choose from toll-free, national, mobile, or geographic).
Click View Rates and Select Plan.
View the results and choose from the options.
Types of Australian Phone Numbers
Global Call Forwarding offers Australia toll-free numbers, local phone numbers, mobile numbers, and national numbers.
Advantages of Buying an Australian Phone Number
You may be surprised to learn how many ways international virtual phone numbers can benefit your business. Here are several examples:
Develop a winning local presence: Don't struggle to attract customers from beyond your immediate vicinity. Often, customers outside your area may think that you are too far away to deliver a reliable service. But if you have a local virtual number, they will have no idea that you don't have a local physical presence and they will dial your number rather than your competitor's.
Establish a market overseas: You may want to expand your business overseas, but you may not have the resources to set up an operation there. A virtual international number allows you to run your business overseas while you are working from your base office or even from home. If your employees have skills in other languages, you can certainly take advantage of their abilities and let them plunge into international relations, without having to make investments abroad.
Boost your image: In the world of business, your image is paramount. With virtual phone numbers, you can give the impression of owning a global empire rather than a small business. This can be particularly beneficial if you are not located in a major city, as it boosts confidence with your partners, suppliers and your customers.
How Australian Phone Numbers Work
Virtual Australian phone numbers work by providing your company with a range of local, Australian 1800 numbers and a forwarding service that reroutes your calls to the number of your choice. The number could be your office, your company call center or even your mobile phone. You can change the number at any time. Each time your Australian clients make a call, they have the ease and confidence in knowing that they are calling a local number and talking to a local company. They never need to know your physical location. They will also be happy not to have to pay long-distance charges or to have the hassle of overseas dialing codes.
Global Call Forwarding offers a cutting-edge service that provides Australian phone numbers as well as virtual numbers in more than 140 other countries. Once you have signed up for an Australian phone number, you can establish business connections and take calls from your customers anywhere in the world. For example, if your company is based in Canada, but you'd like to expand your business to Australia, virtual Australian phone numbers provide a point of contact for you in that part of the world.
Customize the ringtones on your Australian phone number to match the local ringtone. To make sure you never miss a single call, you can have your calls routed to more than one number at the same time. You can also schedule calls to route to different numbers based on the time of day.
Doing Business in Australia
Whether you are starting out with a new business, or looking to expand your current venture, Australia has great business opportunities. The nation's current economic state makes it very affordable and attractive to foreign investors. When it comes to business, Australia is considered to be the gateway between Asia and the Western world.
Furthermore, Australia has very strong trade relationships with China.
Australia's Economy
The Australian economy is highly developed and is one of the world's largest mixed market economies. In terms of wealth per adult, Australia is the world's second wealthiest nation. The nation's economy is dominated by the service sector, which comprises 61 percent of the GDP. Some of the country's largest companies include Woolworths, Caltex Australia, Wesfarmers, Rio Tinto Group, and Telstra. The currency of Australia is the Australian dollar.
Australia's Six Largest Industries are:
Financial industry: Australia has several valuable assets in the financial world. Its main four banks – ANZ, Westpac, Commonwealth Bank, and National Australia Bank – are all ranked in the world's 50 safest banks. The financial sector is one of Australia's largest industries.
Metal and mining industries: The mining sector is Australia's second-largest industry due to the country's massive array of natural resources. The country is home to many categories of the mining industry including black and brown coal mining, iron ore mining, gas and oil mining, gold ore mining, copper ore mining, and bauxite mining.
Business consulting firms: Many of the world's major business consulting firms are now based in Australia. Consulting firms fall into four categories: information technology consulting, strategy and general business consulting, sustainability consulting, and human resource consulting.
Energy and utilities: Australia has huge energy assets along with outstanding natural resources such as coal, oil, natural gas, and uranium. The nation also boasts renewable energy resources.
Industrial and material industry: Because this industrial sector garnered some big projects over the past decade, it was able to survive the financial crisis. Growth has maintained in part by the New South Wales $50 billion transport plan.
Healthcare and the pharmaceutical industry: This sector includes biotechnology and medical practice. Australia is currently undergoing a shortage of doctors and nurses, particularly in regional areas.
Using Australian phone numbers for your business allows you and your employees to work from anywhere and reach anywhere in Australia. With virtual call forwarding, the business world is your oyster.