How your agents communicate over the phone can make a huge impact on the success of your call center strategy. Convert more callers into returning customers and reel in the sales with effective call center scripts. We even include a downloadable template below!
How Does Using Call Scripts for Customer Service Improve Communication?
Call center scripts can make or break the way your business interacts with its customers. These scripts carry information about your products and services intending to convert callers into recurring clients and, ultimately, generate sales.
However, if agents and reps are not trained to understand the flow of different conversations, they may end up offering poor service. Call center and customer service scripts can be used in these instances to train agents and provide easy-to-apply guidelines to follow. This way, your sales and support teams will be able to respond to and resolve customer queries more quickly and accurately, improving overall customer service.
What are Call Center Scripts Used for?
Call center scripts and customer service scripts are guidelines agents use to communicate with customers and users. These templates are ready-to-use based on different customer interactions and scenarios. Agents can use these to respond to queries and complaints or help customers find better products and services. Some customer scripts can be used to collect customer feedback or product reviews.
How to Create Effective Call Center Scripts: 7 Best Practices
When creating your call center script, focus on developing scripts for both inbound (incoming) and outbound (outgoing) calls. This way, your customer support teams are prepared for callers seeking customer support and product inquiries and your sales teams are prepared for sales pitches and lead calls. Additionally, call center scripts can help reduce training time and agent turnover. Businesses that don't have time to offer rigorous training and provide in-depth knowledge can use scripts to get the job done quickly.
Here are 7 call center script best practices to consider when developing your business' scripts. We also include tips for effective scripts and how to train your employees to meet your standards.
1. Hire Excellent Customer Service & Sales Reps
First, hire quality customer service and sales talent. Use business networking sites to find agents and reps that have experience, training, and certification. This will ensure you have a robust team ready to tackle whatever issue comes their way. Plus, they will have developed the right personality needed for delivering scripts naturally and effectively.
2. Keep Call Center Script Writing Tips in Mind
When creating your script and training your agents to make the most of the script, keep these key tips in mind:
Develop scripts that lead to action and be clear in their purpose.
Plan for multiple scenarios.
Allow for flexibility (but not too much) and more genuine interaction with customers.
Write scripts keeping common customer complaints and preferences in mind.
Emphasize the importance of understanding customer needs so they can be helped efficiently.
Include positive phrases and reword negative phrases.
Focus on personalization and train agents on proper etiquette.
3. Create an Effective Call Center Script
Your call center script should include these useful elements:
Greet the customer and say the name of the business.
Introduce yourself.
State the purpose of your call (outbound call) or find out why they are calling (inbound call)
For outbound calls: go through your script at a decent pace and pause for questions or concerns.
For inbound calls: listen carefully and attentively to the caller. Take note of key issues or questions, repeat to clarify, and offer practical solutions. Provide accurate information or offer a follow-up call, if you do not have the information on hand.
At the end of the call, ask if they need any additional assistance, thank them for calling, and add a pleasantry.
4. Train Agents & Employees Well
Besides merely providing your employees with quality scripts, you also need to train them in how to use the scripts well. Spend sufficient time teaching employees bad and good call center practices. Help them understand the company's goals and standards. When training employees:
Focus on making customer service a top priority.
Keep communication two ways; adopt active listening.
Demonstrate examples of bad customer interactions and provide solutions.
Use call recording to identify positive and negative behavior.
Use call monitoring to listen in on calls with new employees so you can train them "on the job."
5. Emphasize the Importance of Utilizing Customer Data When Using the Script
Part of executing a call center script well is personalizing it for each individual customer. This means using customer data alongside your script. Businesses with a customer-first strategy or those that are customer-focused need to use customer data to offer better, more customized service.
Before your agent or rep answers the call or calls a customer, they must pull up the customer's data, history, purchases, and so on. This ensures your agent is prepared for the conversation and has all the context needed. Additionally, the customer won't have to repeat their query again and again or bring the rep up to speed. You can save time for both your agent and customer. And move towards resolution faster.
6. Use Call Recording to Analyze the Effectiveness of Scripts
Recording business calls can help you and your teams listen in to calls from the past. This is a good way to identify what is working and what isn't and how to improve your phone interactions. Pay attention to your best-performing agents. How are they effectively bringing new clients on board? What techniques and strategies are working? Then integrate their practices into your call center script so others may attempt them as well.
7. Provide Agents with Knowledge Bases and Support
Finally, make sure your reps can provide accurate responses to customer questions quickly. And to do this, they will need access to knowledge bases or support resources that outline common customer questions, product descriptions, company policies, and so on. This way, they can consult accurate resources if they are hit with a question or query they do not have an answer for.
Improve Sales with Call Center Scripts
Call center scripts have a great impact on whether a customer continues to do business with your company. Ensure your scripts are customer-centric as well as informative and helpful. Train employees to have an upbeat attitude and treat each call as a new slate. And before you know it, your scripts will be an effective aspect of your strategy that brings more and more customers to your business!
Downloadable Call Center Scripts Templates
Ready to get started? Then, grab these call center scripts and share them with your teams. Here are scripts to help you handle different situations and phases during customer calls.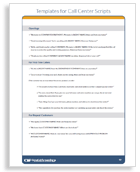 Download Your Free Call Center Scripts Here